February 7, 2020
Featured Mentor – Joyce Castro
It's an honor to feature another one of our incredible Junior Board members, Joyce Castro, in today's blog! Joyce has been mentoring for two years through her employer, Cravath, Swaine and Moore, which is one of Read Ahead's Champion Partners. We're endlessly inspired by Joyce's energy, enthusiasm, and commitment to her mentee.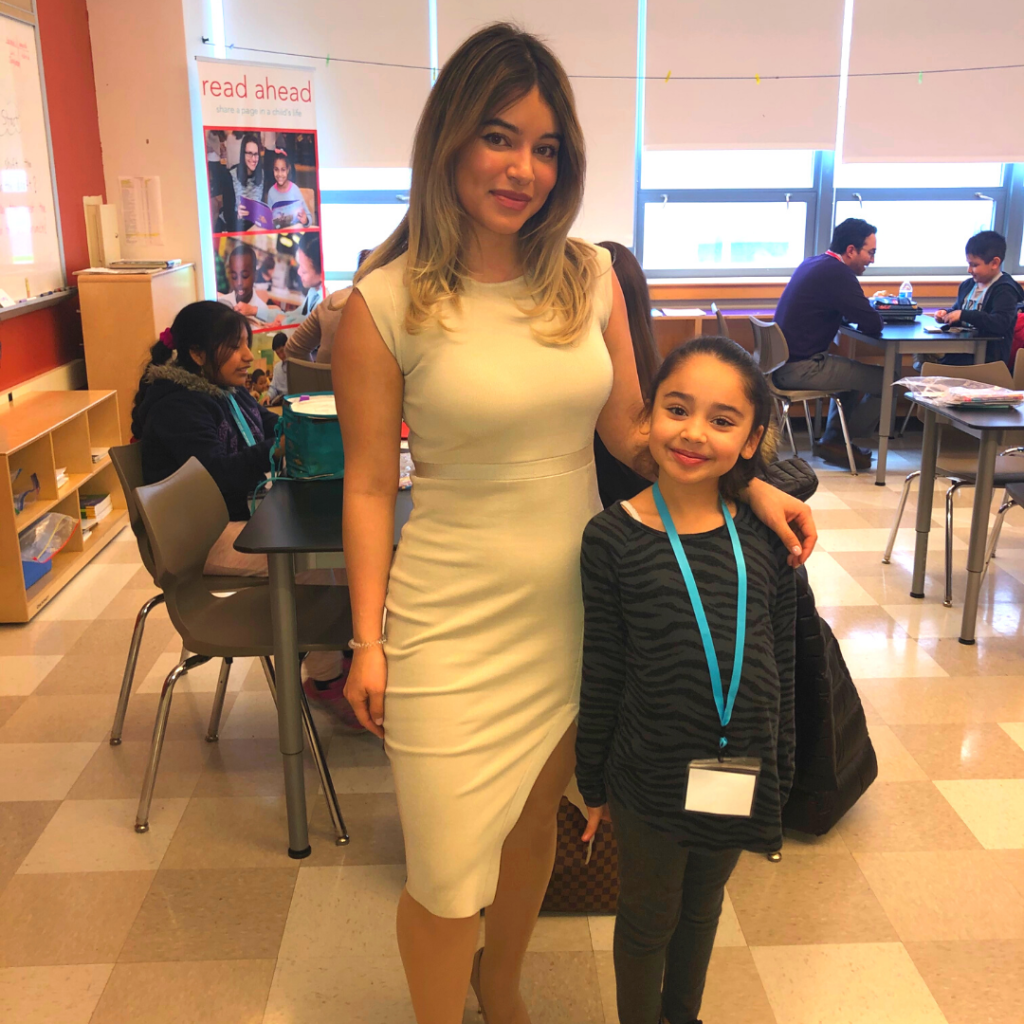 Why did you choose to be a Read Ahead mentor?

I chose to be a Read Ahead mentor because, when I was younger, I had a mentor. I did not realize until years later that my elementary school librarian mentored me and changed my life. We spent time together during lunch hours and discussed books she would assign me. She reinforced my love for reading while also guiding me through American culture since both of my parents had emigrated from Ecuador. Having earned higher education is an essential part of who I am, and I hope to be able to encourage Valerie to continue staying in school regardless of any obstacles she may face.

What's your favorite thing about being a Read Ahead mentor?

The best part of being a Read Ahead mentor is noticing the changes that Valerie has made since we began. I have seen her spelling improve and her reading skills flourish tremendously.

I love Read Ahead because Valerie reminds me of who I was when I was her age! I am happy to be able to guide her and talk to her about subjects that resonate with younger me.

Do you have a favorite book that you've read with Valerie so far?
"I am Invited to a Party!" by Mo Willems

When I began mentoring in 2018, Valerie confessed she did not enjoy reading. Since then, we have been negotiating our time: 5 or 10 minutes of reading and the rest of the session is reserved for any fun activity she likes. Last week, she suggested we pick out a book, which was unexpected. She loved Mo Willems' books so much that we read three in one session! I noticed her reading had progressed, and she gleamed when I pointed out her improvement!
The Read Ahead Junior Board's annual Strikes, Spares, and Splits fundraiser takes place March 10th! As part of the event, Joyce and her teammates are raising funds to support Read Ahead at three of our highest needs schools. Help them reach their goal by making a donation today!