February 28, 2020
Featured Mentor – Brian Chapman
We're thrilled to highlight Brian Chapman, a mentor from Columbia University. This year, nearly 200 students, faculty, and staff from Columbia are mentoring with Read Ahead!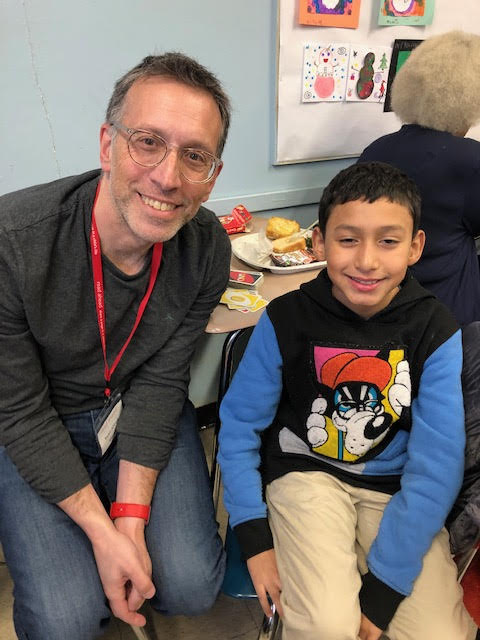 Why did you choose to be a Read Ahead mentor?
I chose to do Read Ahead because the invitation to participate came to me just as I was getting ready to publish my first children's book.  I wanted to participate in a program that would help me better understand and connect to my target audience. In reality, what I got was a program that makes me a better person every single week.

What is the best part of being a Read Ahead mentor?
The best part of being a Read Ahead mentor is building a week-by-week relationship with Chris. We talk about things week to week and have built a base for conversation while we play games. I mentor on Meatless Mondays at school and Chris hardly ever likes what he is served. But we joke about it and I tease him about it and we have a laugh every single week because we are getting to know each other well enough to have inside jokes. That's pretty cool.

Tell us about your favorite book or activity in Read Ahead so far.
I'd love to say that my favorite activity had to do with a transformative book.  But the truth is that my favorite thing that we have done together is to play Go Fish (the card game).  Chris, while a master-level player of Fortnite, didn't yet know how to play cards when we started getting together.  I taught him Go Fish and every single week he asks to play it. While we are working on learning strategy and such, the best part about it is just sharing this very simple, very fun game that he will be able to play his whole life.  And seeing how much he enjoys it.
Can you share a favorite story, anecdote, or moment that really resonated with you from your time as a mentor? 
So I am really into dogs (I even wrote my book about them) and Chris's family recently got a dog.  I asked him the dog's name and he gave what I know now to be his signature move (a favorite among 10-year-olds): a shrug.  This game of "what's your dog's name" went on for a few weeks, when I know perfectly well that he knows the dog's name but is just playing with me because of my thing for dogs.  I just really enjoyed that he feels comfortable enough with me, and understands me a little bit, to know how to have a gently teasing relationship. The realization of that was a nice moment.