July 27, 2020
Featured Mentor – Maria Castro
We're thrilled to feature Maria Castro in today's blog! Maria has been a Read Ahead mentor since 2017, which was also the first year of our partnership with her employer, Guardian Life Insurance Company. Read on to learn more about the incredible relationship that Maria has built with her mentee, Luisanna!
Why did you choose to be a Read Ahead mentor?
Having worked in public schools during different parts of my career, I had firsthand experiences with children who struggled with their reading and how it progressively became a challenge as they got older. I was lucky enough to work with a reading coach at one of the schools I volunteered at and was able to mentor students many years ago. While doing this I realized how inspiring these students were and how hard they worked to achieve the goals set forth by their coach and I wanted to continue doing that in some capacity after that experience. I was lucky enough to come across the opportunity to work with the Read Ahead organization and the students that they serve.
In your opinion, what is the best part of being a Read Ahead mentor?
The best part of being a mentor is sharing the experience of Luisanna's progression and successes. When I see her eyes light up when she gets something or figures out a new word it gives me goosebumps. I feel her excitement and sense of accomplishment because I know she works hard to get there. I see the sense of accomplishment in many of the students being mentored. They stand a little taller, smile bigger and feel more confident. It is very obvious that this helps them feel more confident.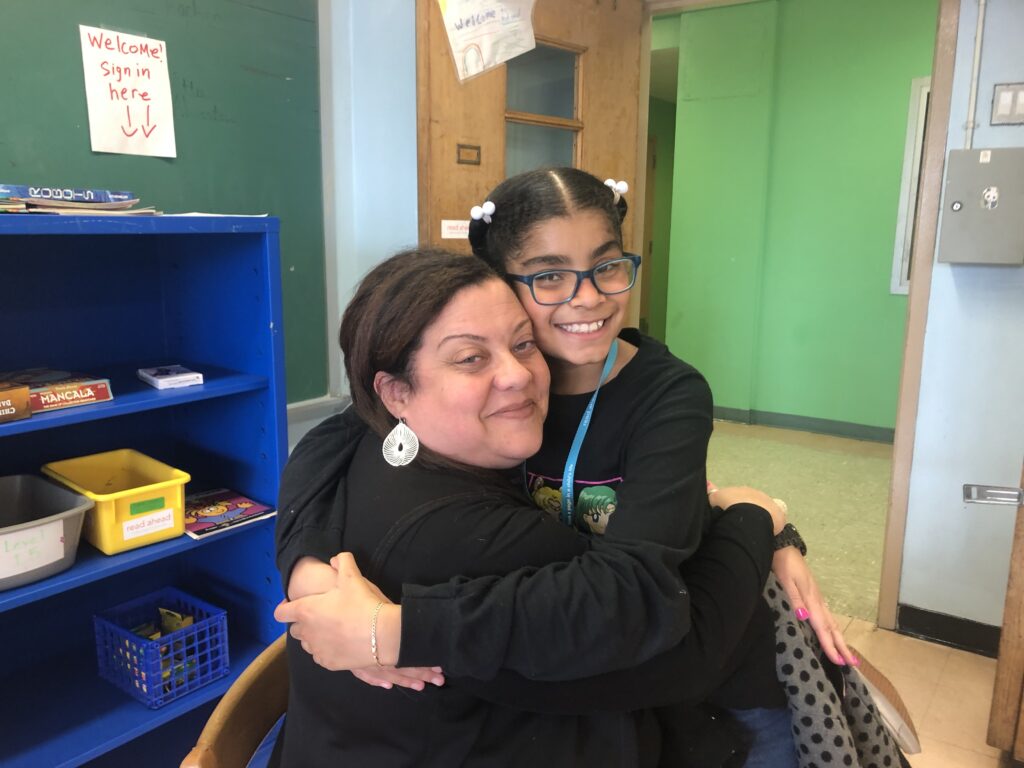 "I 💛 Read Ahead because it gives mentors an opportunity to lift up and support students from all walks of life in their quest to become lifelong readers. Our love of reading, gives us the unique perspective to work with our beloved mentees and help them become better readers.  Our experiences are not limited to reading since we are able to connect with our mentees on different levels and let them know we are here to support them."
Do you have a favorite book that you've read together so far?
We have read several books that we have enjoyed but the one I think Luisanna enjoyed most was the Tapper Twins Go To War.

Can you share a favorite story, anecdote or moment that really resonated with you from your time as a mentor?
Luisanna was very shy when we first met and many times was afraid to try new things when we were working on new words. I went home and tried to think of ways to encourage her to practice at home with her family but wanted to avoid making it hard or too much like homework. I went online to some teacher resource pages that I knew about from my old position and found some fun coloring sheets and sight word activities for her, printed them out so we could work on them during our mentoring time and then printed extra copies for her to take home.
After a few weeks she came back and shared that some of those worksheets/coloring pages had helped her and other members of her family with some of her homework and that she was so happy that I brought them. After that I made her some felt flash cards in different colors and glued letters to them so she could sound out words and we used those as well in class and she used them at home with her family. She liked those because they had "a lot of color" (Luisianna's words) and they were fun.
Is there anything else you'd like to add?
Thank you for the opportunity to be a part of a community that puts the needs of these kids first and recognizes that every little bit helps in building their confidence, love of reading and future success.
Read Ahead loves to share great stories from our community – we hope they bring a smile to your face! Do you have a story to share, or an idea for something you'd like to see on our blog? We'd love to hear from you! Contact us at communications@readahead.org