May 11, 2020
Featured Mentor – Grant Darwin
It's an honor to highlight another one of our fantastic volunteers, Grant Darwin, on today's blog! Grant is an associate in the Corporate Department and a member of the Private Equity and Mergers & Acquisitions Group at Proskauer Rose LLP – one of Read Ahead's longtime corporate partners.
Proskauer has a strong tradition of pro bono and community impact work, which is highlighted on their Proskauer For Good blog. Read Ahead is proud to be counted among the many incredible non-profit organizations that the firm supports.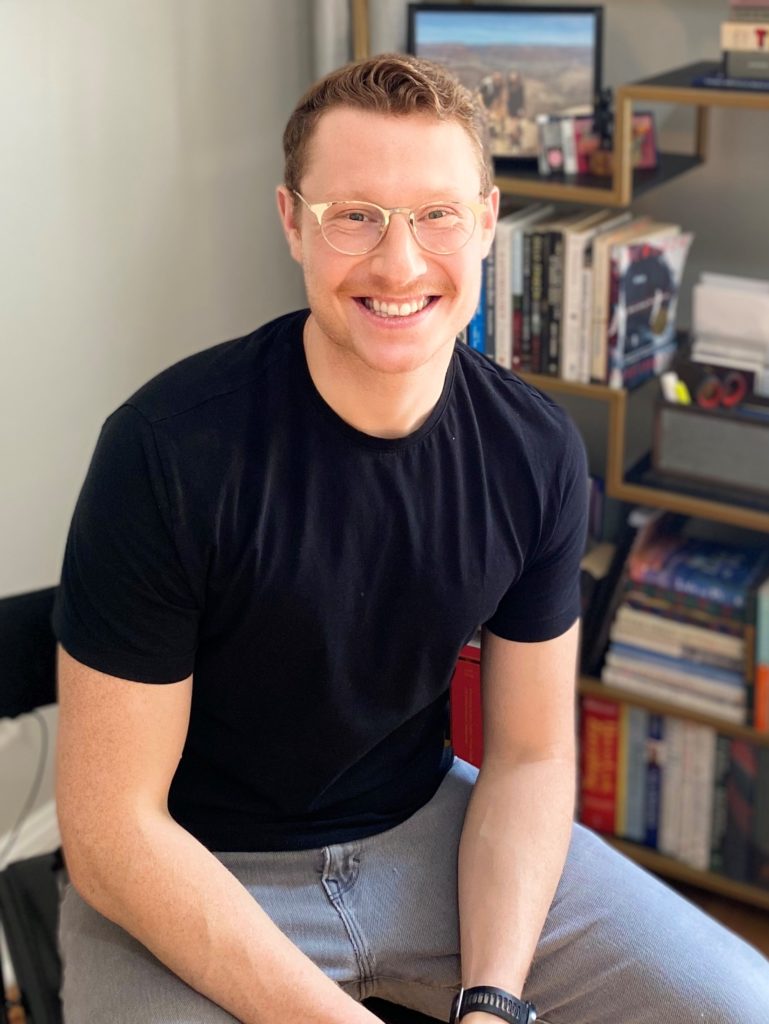 Why did you choose to be a Read Ahead mentor?

Initially, I was drawn to Read Ahead because it seemed like a great way to break up the work week. I had been a day camp counselor growing up and spending an hour with an elementary-school aged student reading, doing arts and crafts or playing games presented a welcome change from drafting legal documents.
However, as I learned more about the program, I was captivated by the prospect of having a real and positive impact on the intellectual development and self-confidence of a child. I remembered being that young and how special it made you feel when an adult would spend time answering your many questions and helping you work through a confusing or difficult topic. The opportunity to now be the "grown-up" in that scenario seemed too good to pass up!

In your opinion, what is the best part of being a Read Ahead mentor?

Getting to witness your mentee grow and progress in reading comprehension over the course of a school year (or in this case, even a truncated school year) is a truly awesome experience. The big smile that a mentee wears when the hard work put in during class, at home and in Read Ahead pays off is really special (and infectious).
I 💛 Read Ahead because the sheer joy and pride of my mentee when she successfully reads a new word (or better yet, successfully reads a full sentence without hesitation) is the most inspiring part of my week. Read Ahead reminds me how big such little moments can be for all of us.

Do you have a favorite shared reading experience with your mentee so far?

During the first part of each session over the past few months, I've spent time reading to [my mentee] Kaylee from Roald Dahl's Charlie and the Chocolate Factory. Before we start the next chapter, we have been recapping the story so far. I love hearing Kaylee's interpretation and how she is visualizing the world Dahl describes.

Can you share a favorite story, anecdote, or moment that really resonated with you from your time as a mentor?

On one occasion, another mentor, mentee, Kaylee and myself were playing an intense game of Uno. Kaylee and I were the last two left, and every time I thought I was going to get to "Uno" she would play the perfect card to cause me to draw more cards and prevent me from getting to Uno before her. After many minutes of this, Kaylee ended up playing all of her cards before I could and beat me. We had a lot of fun and she did not let me forget who came out ahead in that match up!

Is there anything else you'd like to add?

I would encourage anyone who can spare the time to participate in this program. It is incredibly rewarding and a lot of fun too!