April 27, 2020
Featured Mentor – Zoe Grenier
We're so excited to feature Zoe Grenier! Zoe has been a mentor with Read Ahead since 2017 through her employer, S&P Global. For over 20 years, employees from S&P have been volunteering their lunch hours to read with and mentor children in lower Manhattan.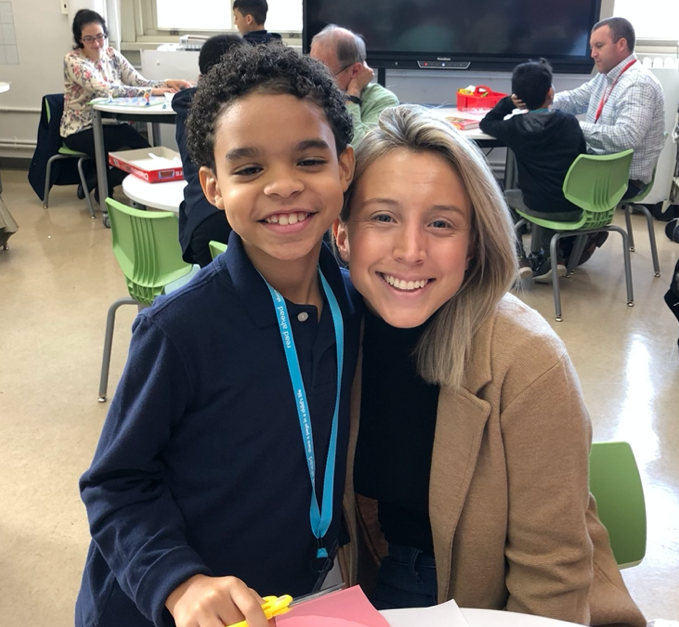 Why did you choose to be a Read Ahead mentor?
I chose to be a mentor because I love kids and wanted to give back to the community. Since Read Ahead allows me to connect with kids in my immediate community, it's the perfect fit.

In your opinion, what is the best part of being a Read Ahead mentor?
Seeing the impact that I have on [my mentee] Jeremias. He consistently comments that Read Ahead is the best part of his week, and cannot stop smiling and laughing during our session. Seeing his face light up with happiness is so rewarding.
I 💛 Read Ahead because I get the opportunity to make a child happy.

Favorite activity that you've done so far?
Jeremias loves to draw so we oftentimes spend our sessions drawing.

Can you share a favorite story, anecdote or moment that really resonated with you from your time as a mentor?
During a session, Jeremias said that he was going to work on something to give me at the end. He handed me a heart he had cut out of pink paper with the note: "You are the best mentor ever in my heart." I absolutely melted.

Is there anything else you'd like to add?
I cannot overstate the positive impact that Read Ahead has had on Jeremias and the other mentees in our group. It is a very bright spot in each child's week.

Read Ahead loves to share great stories from our community – we hope they bring a smile to your face! Do you have a story to share, or an idea for something you'd like to see on our blog? We'd love to hear from you! Contact us at communications@readahead.org