Join the Read Ahead Junior Board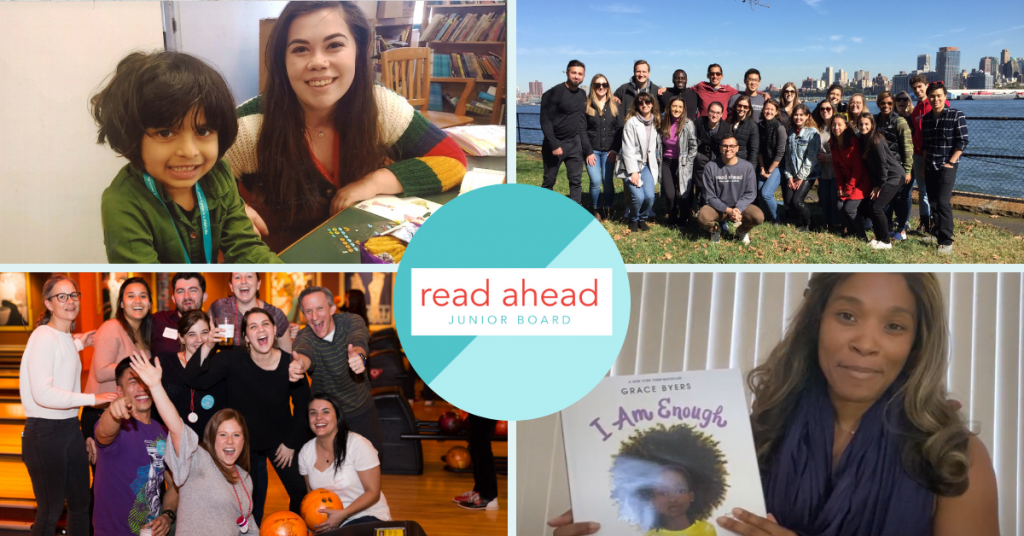 Thank you for your interest. Applications for the 2022-23 Read Ahead Junior Board are now closed.
Applications for this year's Junior Board were accepted from September 6 through September 30. All applications are carefully reviewed by a team of Read Ahead staff and current members. Applicants will be notified no later than early October regarding their application status. Thank you for your interest!

Read Ahead provides equal opportunities to all applicants without regard to race, color, ethnicity, religion, sex, sexual orientation, gender identity, national origin, age, disability, genetic information, veteran status or any other protected characteristic as established by applicable law. We seek to build a diverse Junior Board representative of the communities we serve. All qualified applicants are strongly encouraged to apply.

About the Junior Board

The Junior Board is a group of young professionals in their 20s and 30s united by the belief that reading and mentoring have a meaningful and lasting impact on New York City youth. By combining the power of fundraising, advocacy, and community building, the Junior Board is integral to Read Ahead's success.

The Read Ahead Junior Board is NYC-based and planning to be hybrid next year, meaning we'll have both in-person and virtual components. Most in-person meetings will take place in Midtown Manhattan.

We look for enthusiastic individuals and emerging leaders who can commit to a full year of championing Read Ahead's mission-driven work, and seek to build a diverse Junior Board representative of the communities we serve. If this sounds like a good fit, we strongly encourage you to apply!

All Junior Board members commit to:
A year of participation in Junior Board meetings and events (most take place October – June)
Fundraising $750 or more each year, either through personal contributions or fundraising through their personal network
Participating in four Junior Board meetings annually
Participating in our annual retreat

This year's retreat will take place in person on Saturday, October 15th
There are many great benefits to joining the Junior Board, including: access to fun events, a social network of like-minded young professionals in New York City, professional development opportunities such as networking with our Board of Directors, and the opportunity to be a Read Ahead mentor, even if your company is not currently a partner organization.

Please contact us at juniorboard@readahead.org with any questions.