Mentor Spotlight: Sheng Xu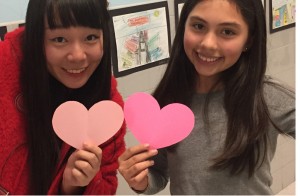 Sheng Xu works for BlackRock. In her first year with her student Ilana, Sheng has done an outstanding job in making a real difference in Ilana's life!
How long have you been a volunteer with Read Ahead?
This is my first year; I started in October. I learned about the program from a co-worker who brought me to an info session where I learned about the program and the mission of the organization. I thought it was a great opportunity as I've always loved getting involved with children. It was amazing opportunity to sit and read with a student. I loved that it wasn't a one-off event. It's not easy to find a program where you get to continuously make a connection with a child over a period of time.
How has your relationship grown with your student, Ilana?
It started off great; Ilana and I clicked from the beginning to where we now see each other as friends. In one of our last sessions together we took a year-end survey and one of the questions asked about her comfort level with adults, and she answered that she doesn't see me the way she used view adults. Our relationship has grown to where we see each other as friends and equals.
Do you have any strategies that have been particularly successful?
We read together as friends and we'll talk about what interests us in the passage. We normally start taking turns, alternating a page at a time, and as we got more familiar she'll choose to read pages that she thinks are more interesting. It's her first year in the program as well, so it took some time for her to get used to coming every week. Initially, we took time in the beginning to adjust, and I've worked that into our time together. I think that has helped us appreciate our time because she now values the time we spend reading together more. After many sessions, she asks if we can keep reading through the bell!
Did you have someone in your life who influenced you to read?
Reading books has been one of my passions since I was young. I used to love going to the library or bookstore—most of the time reading Harry Potter and other fantasy-based novels. Many of the books I read with Ilana have an element of magic, as she loves those same types of books. Harry Potter inspired me when I was a kid. I was about Ilana's age when I first starting reading that series. I had never experienced anything like that before and it really inspired me. It teaches you about courage, loyalty, and bravery. All of these really important things you learn as a child I experienced through Harry Potter.