Mentor Spotlight: JeanMarie Nickerson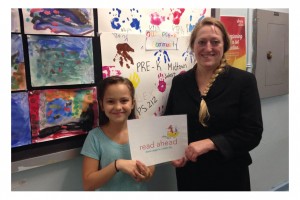 JeanMarie Nickerson is in her 7th year volunteering with Read Ahead. JeanMarie works for the Marsh and McLennan Companies. In her first year with her student Isabella, she had done an outstanding job in making a real difference in her life!
How long have you been a volunteer with Read Ahead?
I've been volunteering with Read Ahead for 7 years, though this is my first year with Isabella. Before that, I had a student who I worked with for 5 years before she graduated from the program.
What inspired you to start volunteering?
There were a number of reasons—for one, I love children. For years, I loved the idea of teaching them how to read. I personally love to read and use it as a way to escape; getting deep into a book is a great way to relax. I have a daughter who I would read to before bed, and she would get so excited. She was so young at the time, she didn't really understand the plot—but loved the attention and time we would spend together. So when I saw the opportunity to volunteer with Read Ahead, it gave me the opportunity to share that with another child and hopefully make reading fun for them.
How has your relationship grown with your student, Isabella?
I've been very lucky in that Isabella and I clicked from the very beginning. We get along so well because we're both silly and like to laugh, she was very easy to talk to. She began to open up about her family and friends, telling me what's going on in her life.  It evolves each week that we spend together, to where just last week we spent time talking to each other in fun voices. She thinks of me as a friend, she actually called me her BFF, which I thought was so cool. She's a sweet, smart, fun kid. It's important that she feels confident enough to talk to an adult comfortably.
Do you have any strategies that have been particularly successful?
I introduced the game "Hangman" to Isabella; she had never played before.  It has become a useful way to start off our time together each week. She loves it and it's a great transition into whatever we read together.  It helps with the camaraderie and it builds the love of the program; it's important that she wants to be there and be a part of Read Ahead. I want her to feel like this is something that I want to do, and will leave her with fond memories and a love of reading. Building confidence in students at this age is so important for everything that they do for the rest of their lives.
Did you have someone in your life who influenced you to read?
I didn't always love to read growing up. When I was younger, I didn't ever have a problem reading but I didn't really love it. One thing that stands out in my mind is my 4th grade teacher. She was so passionate about reading, and I remember when she read Charlotte's Web to the class, she used different voices for each character and I really loved that. That was one of the first times I felt the story come to life. It was such a big part of the appreciation I started to have of reading. I began to love reading more as I got older and it's now a big part of my life; a way for me to escape.