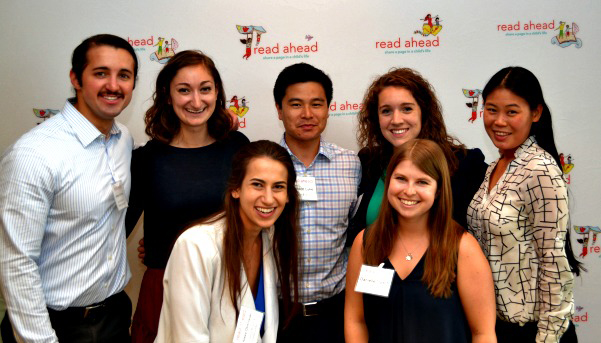 The Read Ahead Junior Board is a spirited group of young professionals in their 20s and 30s dedicated to raising critical funds for Read Ahead. Members have the unique opportunity to network with other up-and-coming leaders from a wide array of professions and industries, while enhancing their personal and professional skills, including readiness for nonprofit board service.
The Junior Board welcomes young professionals who volunteer with our program through their workplace, as well as those who are simply passionate about our mission.
Our Junior Board
Andrew Brimmer
Hannah Bibighaus
Danielle Daitch
Max DeLott
Nicole Farella
Adam Friedman
Stephanie Hamberger
Sonika Hegde
Anna Hezel
Kelly Lane
Anne Latham
Allison Latham
Charley Lozada
Brittni Luke
Brandon Luke
Samantha Maurer
Anne McCarthy
Jessica McIntyre
Megan Mills
Aashish Nawal
Alexis Obernauer
Nick Parks
Kimberly Pilling
Katharine Rudzitis
Laura Simmons
Joseph Solomita
Hope Walker
Annie Wong
Tom Zhou
The application period to join the Junior Board is currently closed, however you can support the efforts of the junior board by joining the Friends of the Junior Board network. Get insider information about what the Junior Board has planned and more.
Fill out this short form if you are interested in learning more about the Junior Board before signing up to join the network.