Read Ahead Mentor Resource Center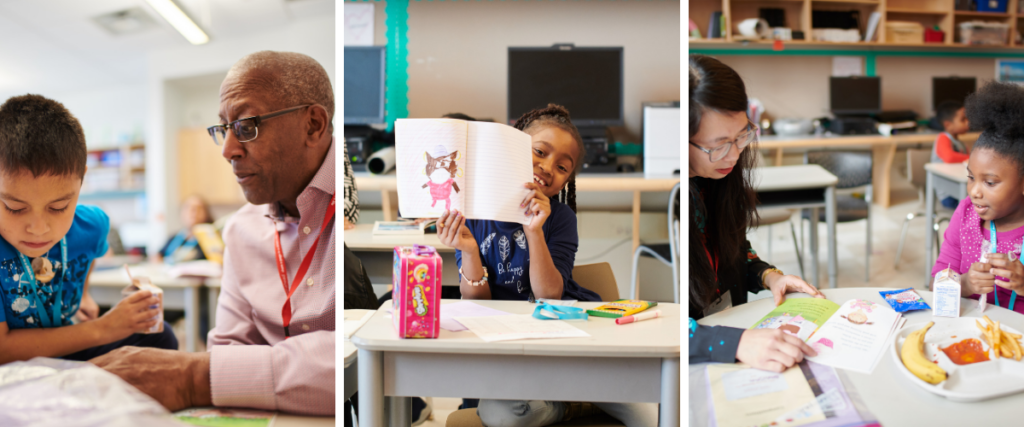 Welcome to the Read Ahead mentor resource center! Here we'll be continuously updating information and resources that can help you as a Read Ahead mentor succeed in the program with your mentee. Feel free to reach out to volunteer@readahead.org with any questions!
Mentoring Resources
Impact of Mentoring
This report shares the findings from the first nationally representative survey of young people's perspectives on mentoring. It includes information on how youth find mentors, how mentors support young people, and the impact on the lives of millions of Americans.
Mentoring/Relationship-Building Tips
Currently mentoring a high energy mentee? These 6 tips will help channel your mentee's energy and direct some of it back towards your time together.
Wondering what to do if your mentee doesn't want to read or can't concentrate? Keep switching books? Says they doesn't want to be in Read Ahead? Is already a great reader? This article will give you some strategies and tips!
Using open-ended questions with kids has many benefits and opens up conversations, but open-ended questions that are too general or unfocused might be difficult for the child to respond to. This article includes more information on the importance of open-ended questions and ways to effectively use them with your mentee.
This mentoring fact sheet from the U.S. Department of Education's Mentoring Resource Center reviews common challenges that arise throughout the life of a mentoring relationship with a young person and provides recommendations for how mentors can anticipate and manage these challenges in the best interest of the youth with whom they are working.
This developmental relationships framework highlights 5 elements —expressed in 20 specific actions—that make relationships powerful in young people's lives.
"More and more empirical research shows us that the number of hours young people spend in a program or the number of activities that programs jam into their schedule just does not make a difference. Rather, it's opportunities to build positive, meaningful relationships with adults that really drives positive change."
Reading Tips
Looking to deepen the reading experience of a mentoring session by making the experience interactive? Explore these key tips for engaging in successful interactive reading with your mentee.
"If you have an opportunity to choose what you read, and then to talk about it with others, maybe to draw and write about it, it builds your sense of yourself as a reader and your self‑efficacy as a reader. That's where confidence really begins."
Youth Development
From age 6-13, this resource describes stages of growth and development (physically, intellectually, emotionally, and socially).
The final in a series of 3 fact sheets from the U.S. Department of Education's Mentoring Resource Center provides both mentors and mentoring programs with basic information about positive youth development principles and how to build them into mentoring settings and relationships.
Growth Mindset
In this popular TED Talk, Carol Dweck gives a powerful introduction to growth mindset and the power of believing that you can improve.
Developed in collaboration with MENTOR, this toolkit can help mentors understand growth mindset and how to apply growth mindset strategies to many of the challenges that youth and adults face in life.
In the race to get kids reading, it can be easy to treat reading like a procedure, instead of the complicated experience that it is. Rather than being assignors, monitors and managers, Goldberg coaches teachers to see themselves as miners, mirrors, models, and mentors.
This tip sheet illustrates some of the messages you can deliver about growth mindset in response to common situations you may face as a mentor.
Other Resources/Websites 
A how-to guide for mentors and the young people in their lives when it comes to finding meaning, a sense of self, and ways of giving back to their world.
Directive tips and worksheets to help adults and young people understand and explore purpose together.